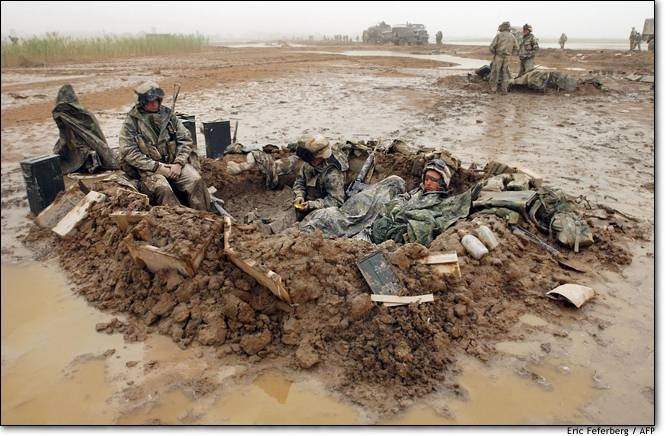 "It is not the critic who counts: not the man who points out how the strong man stumbles or where the doer of deeds could have done better. The credit belongs to the man who is actually in the arena, whose face is marred by dust and sweat and blood, who strives valiantly, who errs and comes up short again and again, because there is no effort without error or shortcoming, but who knows the great enthusiasms, the great devotions, who spends himself for a worthy cause; who, at the best, knows, in the end, the triumph of high achievement, and who, at the worst, if he fails, at least he fails while daring greatly, so that his place shall never be with those cold and timid souls who knew neither victory nor defeat."
Theodore Roosevelt"Citizenship in a Republic,"Speech at the Sorbonne, Paris, April 23, 1910

This is perhaps my favorite leadership quote. I referred to this almost daily when I served as a trainer at the Army's National Training Center. It was too easy to become a cynic, to roll one's eyes when those units and leaders that we were training made "seemingly" simple mistakes. But they were in the arena. They were the ones who had gone for days without sleep, who were under the constant pressure of decision making. Theirs were the faces covered with dirt, blood, and sweat. They were the doers…and I was not!

Isn't this what leadership is all about? Getting in the arena…making decisions…being held accountable for what we do? Being willing to take risks…and at least falling forward when we fail?

Leadership is not about standing on the sidelines and telling people how easy it is to hire, fire, make decisions, or execute (apologies to all those authors and "motivational speakers" who never held a meaningful leadership position!). It's not about being a critic or, at worst, a cynic, who does not give credit to those who try!

Leadership in the arena is about putting yourself out there…and doing it. It's about failing and learning from mistakes. It's about taking on increasing leadership responsibilities, earning the right to lead…paying your dues. It's about faces covered with dirt, blood, and sweat!

Here's to the "Man in the (leadership) arena!" Hooah!